Bathroom sink drains quickly clog up with soap and hair. But not all the products that claim to do the job work. Here's how to clean the sink drain like a pro.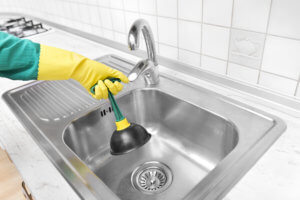 Clogged drains are a common occurrence. But as regular as they are, they're a big headache. When you use the sink, you expect the water to go down with no hassle, but that doesn't always happen.
Thankfully, there are several tricks you can do to get your sink back to operating normally.
With that in mind, check out the tips below on how to clean the sink drain:
1. Boiling Water
Boiling water is one of the best ways to clear out a clogged sink. It's great for getting rid of grease and soap scum because the hot temperature helps to melt it away. Plus, it's one of the easiest methods.
To use this technique, boil some water and slowly pour it down the drain. Allow a couple of minutes to pass and repeat. It's best to redo this step at least three to four times until all of the debris is cleared out.
Once you're done, run the faucet to make sure the water doesn't continue to back up.
2. Homemade Drain Cleaner
If you're looking for an all-natural technique of how to unclog sink drains, a DIY drain cleaner is the best option. Baking soda and apple cider vinegar make an effective combination for cleaning out drains.
When the two substances come together, it creates a bubbling foam that scrubs away dirt and grime. For this method, take a cup of baking soda and pour it down the drain. Allow about a minute to give it time to travel down the pipes.
Next, pour in a cup of apple cider vinegar, and wait a couple of minutes to let the concoction do its job. Then, run the sink water to rinse everything out. If the water still stalls a bit, repeat this step.
If you don't have apple cider vinegar, substitute it with white vinegar or lemon juice.
3. Snake Drain
Sometimes the best way to clean sink drains is to go directly to the source. When large pieces of debris or hair strands get into pipes, it's difficult to get the sink unclogged.
However, once you pull it out, the drain works perfectly. For this technique, you can use a store-bought snake drain or make your own. If you don't have a professional snake drainer, use a wire hanger as a substitute.
Unwind the clasps around the hook of the hanger and stretch out the curves so that it makes a long "handle". Be sure to leave the hooked portion of the hanger intact so that it can easily grab debris and hair strands.
After you've pulled out as many particles as you can, the water should flow down easier. If it doesn't, that might be a sign of a bigger problem and you may need to call a professional plumber.
4. Unscrew the U-Curve
On most pipes, especially for the bathroom and kitchen, there's a u-shaped curve that leads to the outer plumbing area. This portion of the pipe has screws on each side that you can undo with your hands.
If your sink is backed up, it's probably because there's gunk trapped in this area. Sometimes it's difficult for debris to keep moving past this point because of the curve.
However, after you've cleared this section out, the water should flow through the pipes much easier.
5. A Plunger
Plungers work well for clogged sink drains as they do with clogged toilets. If your sink pipes are backed up, they probably just need a little assistance.
Take a plunger and put it directly over the opening of the drain. Make sure the sides of it are suctioned to the sink and apply steady, downward thrusts.
After a few tries, run the sink water to make sure it flows down properly. Repeat this step until the drain is operating normally again.
How to Prevent a Clogged Sink
It may be impossible to completely avoid a clogged sink drain, but there are a few things you can do to ensure it doesn't happen too often. For the bathroom sink, keep small items and trinkets out of proximity of the drain.
It's so easy for small pieces of jewelry or hairpins to slip down the pipes. Over time, these items could cause an issue with plumbing, so be careful.
Also, for the shower drain, use a hair stopper to prevent strands from going down the pipes. Hair is one of the biggest culprits of backed up shower drains. However, using preventative measures will help you avoid plumbing issues.
Furthermore, be careful with grease and food in your kitchen sink. Dispose of large chunks of food in the trash and run the garbage disposal for small, soft bits of fruits and veggies.
Also, avoid pouring grease down the drain. As the saying goes, oil and water don't mix, and pouring oil and grease down the drain is sure to cause a problem.
How to Clean the Sink Drain: Professional Help
The truth is, even if you know how to clean the sink drain yourself, sometimes it requires professional assistance. If you've tried the methods above and nothing is working, Eyman Plumbing can help.
We've been in business since 1957, and our expert plumbers know exactly how to get your pipes running smoothly.
If you have any questions about our services, call us at (402) 731-2727.
We look forward to connecting with you soon!